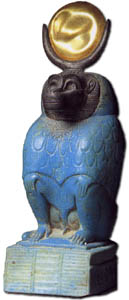 Baboon
(ian)
Appearance: Only two species of primate were known in Egypt: the cercopith and the dog-faced baboon (Papio hamadryas). The latter was sacred in Egypt. Probably a native of Nubia, it was brought into Egypt in pre-dynastic times.
Baboons were very popular in Egypt, and sometimes kept as pets. Many tomb scenes show the animal led on a leash, or playing with the children of the household. It is believed that some baboons were trained by their owners to pick figs in the trees for them.
The baboon was also very admired in Egypt for its intelligence and also for its sexual lustfulness. Baboon feces was an ingredient in Egyptian aphrodisiac ointments.
Meaning: The baboon held several positions in Egyptian mythology. The name of the baboon god Baba, who was worshipped in Pre-Dynastic times, may be the origin of the animal's name.
By the time of the Old Kingdom, the baboon was closely associated with the god of wisdom, science and measurement, Thoth. As Thoth's sacred animal, the baboon was often shown directing scribes in their task. As Thoth was a god of the moon, his baboons were often shown wearing the crescent moon on their head (as shown in the statue above). Baboons carried out Thoth's duties as the god of measurement when they were portrayed at the spout of water clocks, and on the scales which weighed the heart of the deceased in the judgement of the dead.
The baboon had several other funerary roles. Baboons were said to guard the first gate of the underworld in the Book of That Which is in the Underworld. In Chapter 155 of the Book of the Dead, four baboons were described as sitting as the corners of a pool of fire in the Afterlife. One of the Four Sons of Horus, Hapy, had the head of a baboon and protected the lungs of the deceased.
As mentioned earlier, the baboon was associated with the moon due to his connection with Thoth. However, the baboon was more often considered a solar animal by the ancient Egyptians. This may be due to the animals habit of screeching at daybreak or because of their practice of warming themselves in the early morning sun. The ancient Egyptians believed these were signs that the baboon worshipped the sun. Baboons were often portrayed in art with their arms raised in worship of the sun. They were also shown holding the Udjat, a solar symbol or shown riding in the day boat of the sun-god Re.
Digg This!

Del.icio.us

Stumble Upon