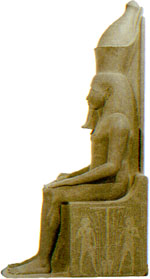 Atum
(Tem, Temu, Tum, Atem)
Symbols: Udjat, Bennu (phoenix), lotus/blue water lily, obelisks and pyramids
Cult Center: Heliopolis
Atum was one of the most ancient gods in Egypt and was part of the Heliopolitan cosmology. Originally an earth god, he became associated with Re, the sun god. Specifically, he was considered to be the setting sun. In later times he became associated with Ptah and eventually Osiris.
According to the priests of Heliopolis, Atum was the first being to emerge from the waters of Nun at the time of creation. Originally, he was a serpent in Nun and will return to that form at the end of time. However, Atum was depicted in art as a man wearing the Double Crown of Upper and Lower Egypt. As such, he is the first living man god conceived of by the ancient Egyptians. Until then, their gods were all forms of animals.
Following his self-creation from Nun, Atum created his children Shu and Tefnut by masturbating. This may seem impossible but Atum was a bisexual god. He embodied both the male and female aspects of life. Therefore, his semen contained all that was necessary to create new life and deities. The Egyptians called Atum "Great He-She" and his name meant "the complete one."
Later myths said that his children were products of his relationship with his shadow, or with the goddess Iusaaset.
Digg This!

Del.icio.us

Stumble Upon